Sign up to our mailing list for a 10% discount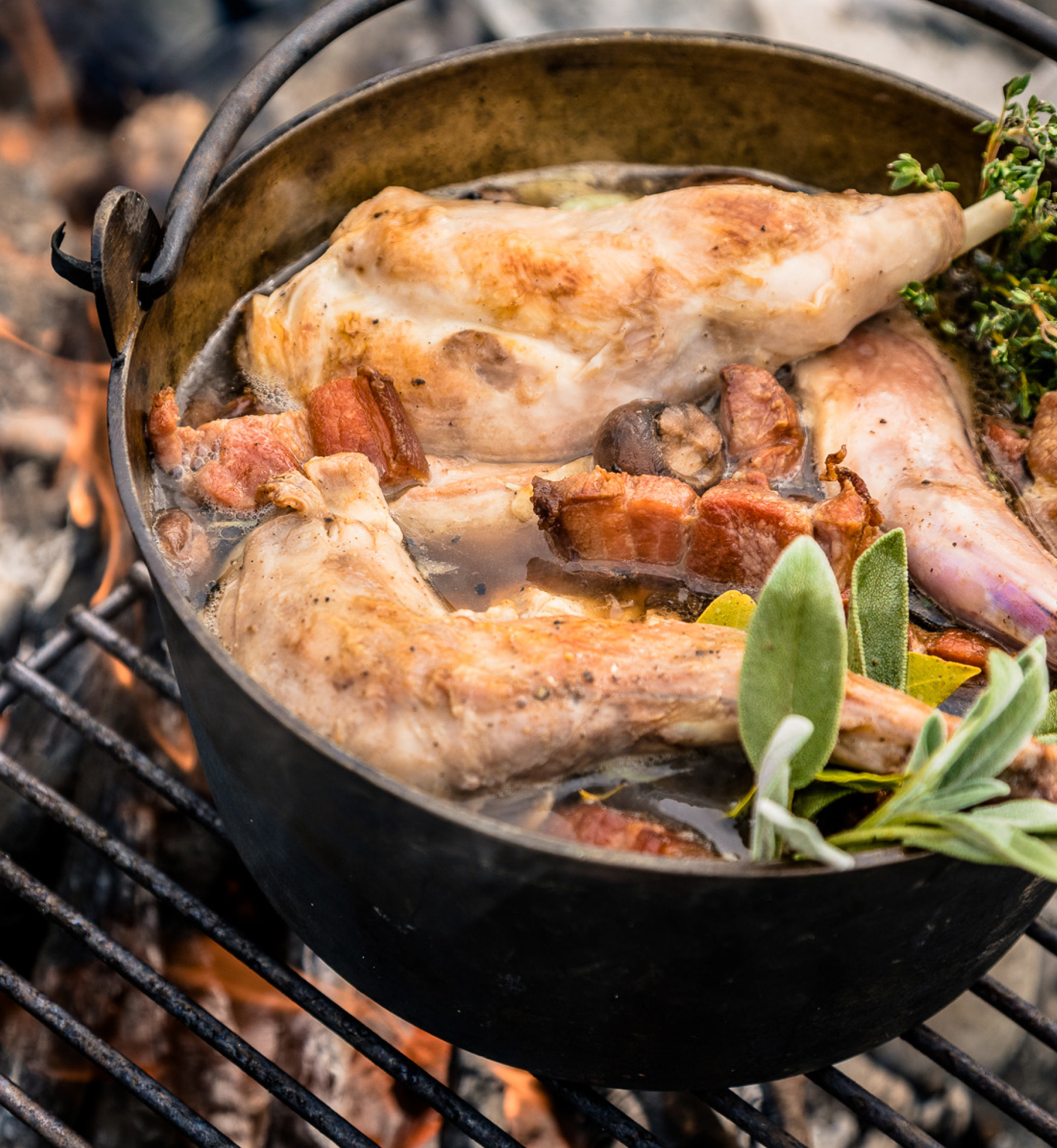 GILL MELLER / COOKING TRIPOD
Campfire Rabbit with Mushrooms, Bacon and Ale
Serves 2-4
With the help of a stout tripod, anything you might cook on your kitchen stove can be cooked outdoors, suspended above a campfire, gaining a delicious smoky flavour. I like to use a cauldron-like pot: anything sturdy with a hanging handle, like a Dutch oven, should work well. The underside of the pan will get a little sooty, so bear that in mind.
400g piece smoked streaky bacon, cut into 3cm cubes
1 rabbit (ideally wild), jointed into 6 pieces
1 large onion, sliced
200g button chestnut mushrooms
3 garlic cloves, sliced
500ml light ale
up to 300ml water
4 bay leaves
10 sage leaves
8 sprigs thyme
Sea salt and freshly ground black pepper
Get your fire established; you want to get it to the point where the flames have died back and you have hot, glowing embers, which will give you a good, consistent heat.


When it has reached that point, set a tripod with a chain and hook over the fire and suspend a sturdy, thick-bottomed, flameproof pot from
the hook.

Once the pot is hot, add the bacon. Stir until the fat begins to render then keep frying until the bacon is a lovely golden brown. Transfer to a bowl with a slotted spoon, leaving the fat in the pan.


Season the rabbit with salt and pepper and add to the pan (you may need to do this in batches). Brown on all sides then remove with the slotted spoon and add to the bacon.


Add the onion and mushrooms to the pan and cook for 5-7 minutes or until beginning to soften. Then add the garlic and cook for a further 3 minutes.


Return the rabbit and bacon to the pan, pour in the ale and top up with enough water to just cover the meat. Add the herbs. Bring to a simmer, feeding or raking the fire if need be for more heat. The pot can be also be lifted and lowered on its chain to adjust the heat. Cook for 2-3 hours (or 1-2 hours if using farmed rabbit) until the rabbit is falling off the bone. During the cooking time, keep the fire ticking over so that the stew continues to simmer.


If it stops simmering, the pot needs to be lower and/or the fire needs more fuel: lift the pot up and add more wood. You may also need to top up the pan with a little water now and again to ensure the rabbit and bacon stay covered.


Once ready, take the pot off the tripod.


Taste the stew and add more salt or pepper if necessary.

Serve with lots of good bread.